Supporting Del Martin and Phyllis Lyon's Right to Marry
After 55 years together, lifelong progressive activists Del Martin and Phyllis Lyon proclaimed their commitment to each other at 5:01 pm on June 16, 2008, and became a legally married couple in the eyes of the state of California.
It was a joyous day and a hard-won victory. Del and Phyllis, and more than 20 other couples, fought a long battle challenging the constitutionality of California's marriage law. On May 15, 2008, they won, on the basic principle that all Californians are equal under the State Constitution, and none of them should be discriminated against.
The Right's Campaign Against Marriage Equality
Even as we celebrate these joyous unions, we're also preparing to defend them. Religious Right leaders have gathered enough signatures to put a constitutional amendment banning same-sex marriage on the ballot in November. California voters will be asked whether they believe that couples like Del and Phyllis should be treated equally under the law.
The Right knows how high the stakes are on this, and they fear the public is moving away from them on this issue. They know that if their ballot initiative to roll back equality fails, they will lose their ability to dismiss progress as the actions of a few rogue judges overriding the will of the people. So they are pulling out every lie in their heavy handbook. And they are pouring millions of dollars into their campaign to reverse the tide of history.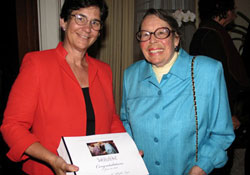 The Fight Ahead
Polls show that we can win in California — but it's going to be close and hard-fought. Here's what People For and our allies are working on in our three-prong campaign.
1. Because the Right falsely portrays marriage equality as an attack on religious liberty, we'll be working closely with members of the religious community on a long-haul education and outreach campaign that makes it clear to the public that marriage equality goes hand in hand with religious liberty — and that many religious people support full legal equality for same-sex couples.
2. We'll be working with African American clergy in particular to focus public conversation on the principles of fairness and equality that are at the heart of this marriage debate.
3. And we'll be getting the word out to the broader African American community in California about the tactics the right-wing groups are using to undermine fairness and promote discrimination, as well as their dismal civil rights record.
What You Can Do
Support the cause of marriage equality by joining our Facebook group: "I DO: I support the right of couples like Del & Phyllis to marry!"
Read more