Ralph Reed's Bid for Elected Office Cut Short by Casino Corruption Scandal

Religious Right power-broker Ralph Reed's first bid for elected office crashed and burned on July 18 amid the stench of the Jack Abramoff corruption scandal. Losing in the Georgia Republican primary race for Lt. Governor was a stunning defeat for the man who helped build a GOP majority in Congress and oversaw the rise of the Religious Right's political power in the 1990s. And it's an embarrassment for the movement he once led.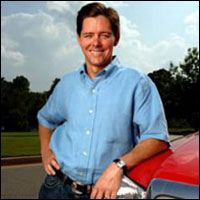 Ralph Reed entered politics as a youthful, ambitious right-wing activist in the late 1970's, eager to root out the rampant "moderation" he found at the University of Georgia.[1] Within a decade, he had gone from local right-wing activist to national head of the College Republicans. But he did not stop there; by the late-1980s he was the executive director of the fledgling Christian Coalition, quickly turning it into one of the most effective right-wing political organizations in the country. After a series of setbacks and scandals, Reed left the Christian Coalition in the late 1990's to found a consulting and public relations firm through which he earned millions of dollars only to become deeply embroiled in a widespread corruption scandal link to disgraced lobbyist Jack Abramoff [2] - a scandal that stopped his transformation from a behind-the-scenes, right-wing operative to respectable Republican candidate is dead in its tracks.[3]
Reed's campaign for Lt. Governor of Georgia was merely the latest manifestation of his decades-long quest to merge his grassroots right-wing political clout with his personal desire for recognition as a member of the Republican establishment. By portraying himself as a "mainstream … conservative" running on a "faith, family, and freedom" platform,[4] Reed sought to capitalize upon the network of support he had built over his years in the right-wing trenches while simultaneously downplaying his controversial past. But it was not to be, as the very enthusiasm for hard-nosed and duplicitous tactics that had catapulted him to right-wing political stardom ultimately became his undoing.

---
[1]
Nina Easton,
Gang of Five: Leaders at the Center of the Conservative Crusade
, Simon and Schuster, Copyright 2000, p.114
[2] Matthew Continetti , "A Decade of Reed," The Weekly Standard, June 27, 2005
[3] Shaila Dewan, "Ralph Reed Loses Georgia Primary Race," The New York Times, July 19, 2006
[4] Remarks Delivered to TeenPact, December 9, 2005