After leaving the Christian Coalition, Reed founded Century Strategies, a "public relations and public affairs firm with offices in Atlanta and Washington,"[51] but his political consulting business got off to an inauspicious start. In 1998, only 50 percent of Reed's clients had won their election races, and that figure was only derived by counting a number of clients that Reed would not identify.[52] In fact, "just about every one of his publicly known clients who faced an even remotely competitive opponent went down to defeat." Reed's candidates were often reduced to relying on outrageous, last-minute attacks, such as running an ad featuring an actor resembling one candidate's opponent shuffling down a hallway in a psychiatric hospital clad in a tattered bathrobe.[53]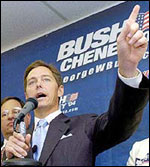 Despite these political setbacks, Reed served as an advisor to the Bush campaign in 2000[54] and stepped up to play a key role during the Republican primary in South Carolina. After then-Governor George W. Bush lost the New Hampshire primary to Sen. John McCain by nearly twenty points, Reed went to work targeting evangelical voters in South Carolina, just as he had done for Bob Dole four years earlier. Relying on a network of grassroots activists and radio ads, Reed orchestrated a campaign that launched some 400,000 phone calls and mailings attacking McCain on everything from abortion to campaign finance reform.[55] Bush won the state handily. [56]
Reed went on to become chairman of the Georgia Republican Party in 2002 and served as the Southeast director for the Bush-Cheney campaign in 2004. But in between his high-profile election work, Reed was busy building his consulting business. Shortly after starting Century Strategies, Reed wrote to his long-time friend, Jack Abramoff, of his "need to start humping in corporate accounts" saying "I'm counting on you to help me with some contacts." [57]
Reed eventually landed contracts, thanks to Karl Rove, with the likes of Enron, which paid Reed in excess of $300,000 for work on energy deregulation before it went bankrupt.[58] But it was through his personal ties to Abramoff that Reed eventually earned millions of dollars and found himself implicated in one of the largest corruption scandals in recent history.
---