How You Can Help Ensure Every Ballot Counts
If the primary season has been any indicator, the national election in November 2008 should be one with record-breaking voter turnout. This is a great thing! But it raises substantial challenges to making sure every American who wants to vote is able to cast a ballot and have it counted.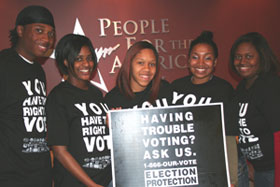 We've already seen problems in 2008 having to do with voters receiving the incorrect type of ballot, improper information from poll judges about what forms of voter ID are required in their state and much more.
Because of recently passed voter ID laws in some states, new technology that's not remotely consistent in many jurisdictions from year to year and the sheer number of voters turning out, we expect more confusion in November.
Further, we expect instances of voter intimidation and deception to escalate tremendously with a contentious general election and the proven willingness of the Right to go to extreme measures to disenfranchise eligible voters.
What does all this tell us? We need Election Protection.
Our Election Protection Work
PFAW Foundation's Election Protection team is aware of the need and working to meet the challenges.
The first step in protecting elections is identifying the problems we can anticipate — and doing it early. That's why PFAW Foundation has been staging targeted Election Protection poll watching operations during the primaries, in key states like Ohio and, in a few weeks, Pennsylvania.
We've also, along with our coalition partners, distributed the 1-866-OUR-VOTE voter assistance hotline, for which we and our partners run call centers staffed with attorneys on the biggest primary days. This will help give us an idea of what to be on the lookout for the general election.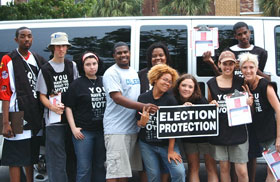 The Election Official Survey
To the same goal of identifying potential problems early, PFAW Foundation has just completed and begun distributing our web-based Election Day Survey for election officials on the state and county levels to asses their preparedness for Election Day 2008.
PFAWF introduced the first ever Election Official Survey by a non-governmental agency back in 2002. Since the 2000 presidential election, it has proven difficult for the public — and even for governmental agencies — to obtain precise, detailed and complete accounting of election administration practices. But with openness and transparency so critical to trust and confidence in the electoral process, we've evolved our methods and continue our outreach and work with election officials to make sure they are best-serving the voting public.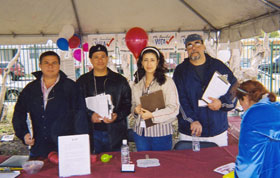 Looking Forward to Election Day 2008
We're creating materials such as downloadable educational fliers, and we're planning online and call-in trainings for volunteers and local organizations that want to mount Election Protection efforts. But that's just the tip of the iceberg.
People For the American Way Foundation is currently putting the finishing touches on a new national volunteer database for Election Protection. When this database is launched, citizen activists will be able to enter their names and create profiles for themselves that will be accessible to groups doing on-the-ground Election Protection work. It will serve activists by plugging them into the programs that are near them and that need them the most, and it will help the groups doing this work by providing them with a pool of committed volunteers — making the difficult volunteer recruitment process much more streamlined.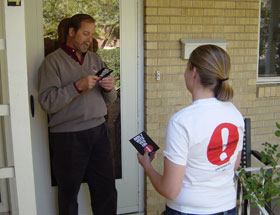 More to Come!
Back in 2004, we led an unprecedented effort with key allies such as Working Assets and the Lawyers Committee for Civil Rights Under Law to train and deploy 25,000 volunteer poll watchers, including many attorneys, in states and communities with histories of voter suppression and disenfranchisement. With new technology and an expanded coalition of state and local organizations taking more responsibility, our involvement in Election Protection has moved to the next phase. Be on the lookout for an update on our new database in the coming weeks.
Thank you for your continued support and your commitment to voting rights and fair elections.