Senator introduces proposal to ban 'deceptive practices'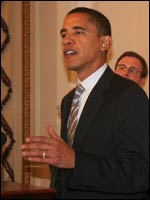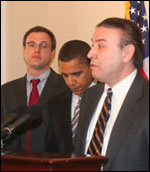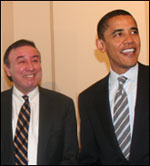 People For the American Way President Ralph G. Neas praised Senator Barack Obama's introduction of legislation intended to crack down on deceptive practices and bring greater accountability to the electoral process. Senator Charles Schumer is the principal cosponsor of the legislation. In response, Neas issued the following statement:
"In 2006 as in so many years before, we saw examples of unscrupulous political operatives trying to mislead and deceive voters, and attempting to hold down voter turnout for political gain. Some voters were told the date of the election had shifted. Others were told that their polling place had changed. Some were given misinformation about voter I.D. requirements. Others were the victims of inaccurate or misleading campaign flyers, or annoying robo-calls with deceptive information.

"Enough is enough. Americans deserve elections that are clean and fair. We may not be able to stop dirty tricks in campaigns, but we can make it harder for them to succeed—and we can make the consequences very serious for those who carry them out. Senator Obama's bill is an important step forward. His Deceptive Practices and Voter Intimidation Prevention Act proposes strong, effective procedures to prevent deceptive practices in the future, and to ensure that the individuals responsible for such practices are held to account. Senator Obama should be commended for introducing this legislation.

"Senator Obama's bill would criminalize egregious deceptive practices that keep voters away from the ballot box. It would provide immediate accountability before the election and encourage citizen participation by making it easier to report voter intimidation tactics and seek justice through the courts. And it would require the Attorney General to investigate every reported problem and make the findings public. The bill is an important component of the comprehensive election reform that Americans are demanding after suffering an avalanche of problems in the 2006 elections—most notably the inexplicable disappearance of 18,000 votes in a congressional race in Sarasota County, Florida.

"I encourage all senators to take a close look at this legislation, and I hope that they will recognize, as Senator Obama has, the crucial need for reforms to ensure that every American's right to vote is protected."
For more information on deceptive practices, see People For the American Way Foundation's reports: The Long Shadow of Jim Crow and The New Face of Jim Crow.