Best chance to give voters paper trails, confidence in voting in 2008 and beyond
Today, Majority Leader Steny Hoyer and Rep. Rush Holt of New Jersey announced a compromise that will advance H.R. 811, the "Voter Confidence and Increased Accessibility Act of 2007." The bill bans paperless voting machines and requires a voter-verified paper record for every vote in the country.
"Today's announcement gives Americans renewed hope that Congress will soon put an end to unaccountable, unverifiable, and inaccessible voting," said Ralph G. Neas, president of People For the American Way. "Millions of voters were disenfranchised in recent elections, and millions of others have wondered if their votes were correctly counted. That is intolerable. Given how much is at stake in the coming elections, passing this legislation should be the top national domestic priority."
The Hoyer-Holt compromise to H.R. 811:
Ensures that by the 2008 presidential elections there will be a paper record for all votes cast in federal elections, and makes the paper ballot the ballot of record for purposes of a recount;
Institutes a system of mandatory random audits;
Prohibits wireless devices in voting machines;
Makes voting system software subject to examination should discrepancies arise;
Provides for emergency paper ballots should voting machines break down or fail in any way.
Mandates upgrades to provide durable paper records and enhanced accessible technology by 2012.
Neas praised the tenacious efforts of Majority Leader Hoyer, Representative Holt, and members of a diverse coalition to reach a compromise that achieves all those essential goals, and noted that the legislation includes requirements to ensure accessibility as well as accuracy and reliability, a provision that has garnered a letter of appreciation from the Consortium of Citizens with Disabilities.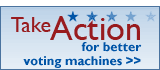 Neas also noted that the compromise addresses some concerns raised by local election officials about having sufficient time and resources to comply with new requirements. The bill authorizes over $1 billion to offset anticipated costs to state and local governments. It also provides a reasonable fix for election officials so they are not forced to purchase all new technology by November 2008, while still providing voters with the ability to verify their votes. Election officials will have the option to upgrade their DRE's to include verifiable paper records as in interim step or use Optical Scan voting systems.
"The status quo is unacceptable, and maintaining the status quo in 2008 with this fair and practical solution before us would be inexcusable," Neas said. "We urge Members of Congress to recognize the 'urgency of now' and call for swift bipartisan approval in the House of Representatives."
Neas said that passage of H.R. 811 is an essential step to restoring confidence and integrity in our election systems, adding that achieving that goal is only possible if state and local election officials also commit the time and resources to addressing problems that raise barriers to registration and voting. "Making our democracy work is a shared responsibility," said Neas, "and we will enlist Americans to help us work with public officials at all levels to make sure they are meeting their responsibilities to voters."